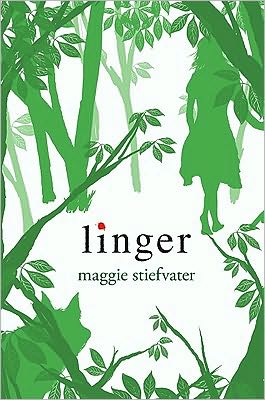 LINGER by MAGGIE STEIFVATER
Publisher: Scholastic Press
Date of Publication: July 13, 2010
Summary:

Grace and Sam found each other. Now, in Linger, they must fight to be together. For Grace, this means defying her parents and keeping a very dangerous secret about her own well-being. For Sam, this means grappling with his werewolf past . . . and figuring out a way to survive into the future. Add into the mix a new wolf named Cole, whose own past has the potential to destroy the whole pack. And Isabelle, who already lost her brother to the wolves . . . and is nonetheless drawn to Cole.

Fact:
when I first bought this book, I thought it- like Linger- will be a heart-felt love story. Well, I was only partially right.
I don't think I have ever read young adult novel more beautifully written than Linger. I could
feel
the emotions for each character. LINGER unlike, SHIVER is a lot more serious and... well, sad. It dwells into the true meaning of love and loss.
In this book, Maggie tells more about Sam, his family, his life before he turned into a wolf, and especially the pain and the joy after he had regained his human form. Likewise, Grace in this book develops into a new person, more daring... more brave to do what she wants instead of listening to her parents and live quietly like she has always done all her life.
Cole, the new character, I think, is the most broken of all. A celebrity, famous and rich, he has everything he wants with a flick of his finger. Yet he has made too many mistakes in his life and tries to run away from it. Telling from four different points of views, the book tells how each of the characters, Sam, Grace, Cole and Isabel tries to cope with their personal problems.
The one thing I love the most about this book is how the characters are portrayed. I think LINGER has more emotions and feelings than action. And I love that. I want to be in people's heads and know what they are thinking and how it affect their lives.
*******Spoiler******
When Grace is dying, I could feel the pent up emotions Sam, the pain, the fear... everything with him even addresing it once. There was no tears, no hysterics in Sam's or even Grace's part yet somehow Maggie perfectly captures the horror of slowly painfully watching the one you love slipping away from you.
Not many books can affect me emotionally there has only been one. But reading LINGER, I feel the pain, the frustration, the fear... so much I wanted to hit something to vent the emotions out!
****End of Spoiler***
LINGER is a great read. I'd recommend it to everyone.

However,
be warned that LINGER's theme is rather heavy and depressing for readers under 13.
LINGER TRAILER: