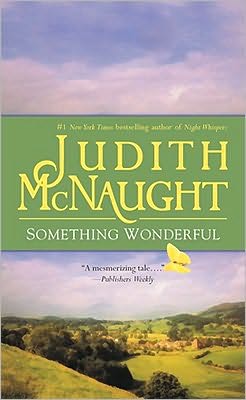 SOMETHING WONDERFUL by JUDITH MCNAUGHT
Publisher:
Simon & Schuster Adult
Date of Publication
:
January 2001
Summary:
The tempestuous marriage of Alexandra Lawrence, an innocent country girl, and Jordan Townsende, the rich and powerful Duke of Hawthorne, is about to face its ultimate test of tender loyalty. Swept into the endlessly fascinating world of London society, free-spirited Alexandra becomes ensnared in a tangled web of jealousy and revenge, stormy pride and overwhelming passion. But behind her husband's cold, arrogant mask, there lives a tender, vital, sensual man...the man Alexandra married. Now, she will fight for his very life...and the rapturous bond they alone can share.
Fact:
I bought this book solely because of these words "one of her most beloved novels of all time!" and did not read until now because the summary sounds not very interesting. But boy, was I wrong.
The one thing I love the most about this book is the female character, Alexandra. There is just something about her innocent, honesty that is so very appealing.
Throughout this book, I kept laughing at their conversations and the unexpected witty comments from both Alex and Jordan. This is one of the rare books that I can feel the male's REAL affection towards the female. I know in all romance books, both characters are supposed to fall head over heels for each other. But sometimes the author... shall we say, got too caught up in creating the image of a cold, aloof hero that he/she makes him looks cold even to the female. The result is not enough romance/affection shown for the female and it leaves me wonder (and boy, I've been doing that for one of the books that I didn't finish days ago) why is she/he (most often "she") so in love with him? He doesn't even do anything for her! Why are they so attracted to each other?
But no, not this book. I can feel the love, the fear, the frantic in Jordan he even if he keeps maintaining his cold, brusque fascade.
And
THAT
, is what EVERY reader wants to see.
*****Spoiler Alert*****
The only thing I found a little upsetting is the tragedy that separates and nearly tears them apart and drives Alex to another man's arms forever. I literally skipped four or five pages just to reach to the end of that because I just can't stand the heartbreaking moment!
Another thing that I found VERY VERY VERY disturbing-- and that I shouldn't. I guess I"m just being overtly old tradition, but the fact that she kisses other men while Jordan is supposedly "dead" just doesn't stand well with me. I guess I only like the female kissing only the main male character. So I got
MORE
than just a little uncomfortable at that. But the consolation is that they are only small pecks and NOT ON THE LIPS. Gosh, I can't believe I'm saying this... but the author just makes her sound so sweet and innocent that I only want her to belong exclusively to Jordan! ANOTHER POINT FOR McNAUGHT's SKILL!!
*****End of Spoiler*****
The good:
the characters, the conversations, the way the author can get into the character's head and say EXACTLY what he/she would say if that person is real. I found out, I had similar thoughts with some of the characters in my life! And oh, let's not forget the sizzle romance between the couple. I think McNaught did a gorgeous job on this one with just a right amount of romance. The previous book I read from her, UNTIL YOU, left me a little unsatisfied...
It could have been better if
you might have guessed already if you read the spoiler section. It could have been better if she didn't kiss others and the plot is a little less heartwrenching. I'm sorry I just can't get over the fact that other men kiss her! I'm not sure if these things that I'm mentioning are supposed to be "lowlights" but those are the only thing that I'm not happy about this book.